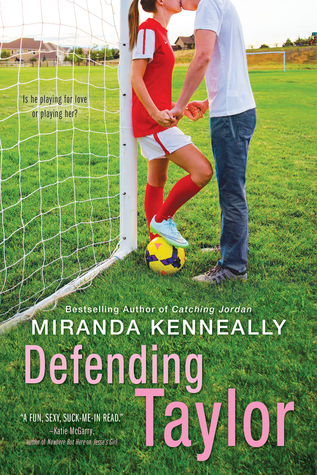 I received this book from Netgalley in exchange for an honest review. This book will be available July 5, 2016. Lookout for this book on Amazon and other book stores.
Captain of the soccer team, president of the Debate Club, contender for valedictorian: Taylor's always pushed herself to be perfect. After all, that's what is expected of a senator's daughter. But one impulsive decision—one lie to cover for her boyfriend—and Taylor's kicked out of private school. Everything she's worked so hard for is gone, and now she's starting over at Hundred Oaks High.

Soccer has always been Taylor's escape from the pressures of school and family, but it's hard to fit in and play on a team that used to be her rival. The only person who seems to understand all that she's going through is her older brother's best friend, Ezra. Taylor's had a crush on him for as long as she can remember. But it's hard to trust after having been betrayed. Will Taylor repeat her past mistakes or can she score a fresh start?
This book was a very cute and quick read. This book is a stand alone and it was very interesting. The main character, Taylor, is a very outgoing person but when she makes a mistake she ends up kicked out of private school. This obviously does not look very good to the voters since her dad is a senator and up for re-election. She ends up going to a regular high school and playing for a soccer team who is not very good but it's something right? She's obsessed with coffee so it shouldn't surprise the reader that she bumps into her crush in a coffee shop. This book is full of a lot of different twists and I felt that the whole story made you realize that you do not always follow the path set down for you. The whole book was very cute and I loved the main character. Her love interest was very interesting too. I felt that the author made the whole story come together very well after you discover what happened back then and the mistake that Taylor had made. I'd give this book 4 out of 5 stars. I liked this book a lot!