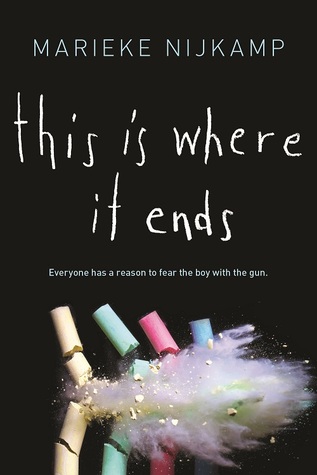 I received this ARC at ALA in San Francisco, Ca from Sourcebooks Fire in exchange for an honest review. This book will be released January 5, 2016. For more reviews on this book, visit Goodreads.com.
10:00 a.m.
The principal of Opportunity, Alabama's high school finishes her speech, welcoming the entire student body to a new semester and encouraging them to excel and achieve.
10:02 a.m.
The students get up to leave the auditorium for their next class.
10:03
The auditorium doors won't open.
10:05
Someone starts shooting.
Told over the span of 54 harrowing minutes from four different perspectives, terror reigns as one student's calculated revenge turns into the ultimate game of survival
This book is 54 minutes of being on the brink of tears and waiting for your heart attack to kick in. This book is unlike anything I've ever read before. I do not have enough words to describe the beauty and terror this book brings. I can't describe the way you'll love the characters while you pray that nothing will happen to them. I can't describe the feelings when you end up with pools of tears in your eyes when one of them is killed. But, I can tell you that this book is so much more than a school shooting. It's about being brave, strong, going after your dreams, and being vulnerable all at the same time.
You'll love the characters and you'll love who they become while reading this book. There are multiple POV's so be prepared! The author makes it very easy to follow along.
You'll be upset with the flashbacks and the deaths but you'll keep turning the pages in hopes that someone else made it out alive. You will hope with all your heart that the person who causes all this will stop because deep down you feel terrible for them. But, most of all you'll hope that this never happens to your town.
This book was amazing. This book gave the reader a fraction of terror that the students felt. The author creates this story in a way where there are no unanswered questions but you're left with just one, "What happens next?". She makes you want to throw yourself into the story to try and help the characters. They all have their own battles going on aside from this shooting and you'll just want to save them all. It's beautiful and tragic all at once. I loved this book and I highly recommend that everyone reads it! There is diversity among races, sexual orientations, and so much more.