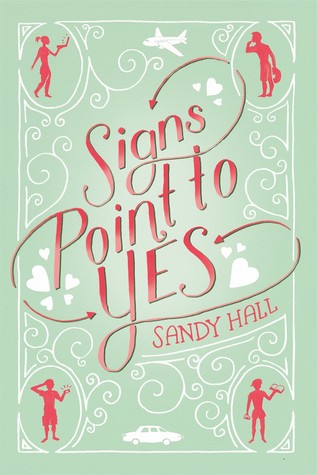 I received this ARC at ALA 2015 in San Francisco, California from Macmillan Children's Publishing Group in exchange for an honest review. The release date for this book is October 20,2015. For more reviews/information on this book, please visit Goodreads.com.

Jane, a superstitious fangirl, takes an anonymous babysitting job to avoid an unpaid internship with her college-obsessed mom. The only problem? She's babysitting the siblings of her childhood friend and new crush, Teo.

Teo doesn't dislike Jane, but his best friend Ravi hates her, and is determined to keep them apart. So Teo's pretty sure his plans for a peaceful summer are shot. His only hope is that his intermittent search for his birth father will finally pan out and he'll find a new, less awkward home. Meanwhile, at Jane's house, her sister Margo wants to come out as bisexual, but she's terrified of how her parents will react.

In a summer filled with secrets and questions, even Jane's Magic 8 ball can't give them clear answers, but Signs Point to Yes.
The cover of this book is really pretty and I would expect nothing less. While reading the book, the drawings on the cover start making more and more sense. So the cover and the book are a good combination.
Signs Point to Yes is an adorable young adult romance that will leave you wanting more. The story centers around Jane and Teo. Jane's mom is rushing her to look into colleges. While Teo is looking into finding his biological father. Jane decides to apply for a babysitting job in hopes of getting out of an internship her mom was able to get her into. Well, she applies and it turns out the job is at her neighbors. Which also happens to be Teo's house. The best part of it all? Jane has a major crush on Teo.
Teo is a smart soccer player that happen to be a bit dorky. He is relatable to the reader with his three younger siblings and his step-father/father issues. Jane is an intelligent not so popular girl with a great personality who asks her Magic 8 Ball for advice. After reading this book I felt like I should carry around a Magic 8 Ball and ask it questions just like Jane. Plus it makes her very unique! The couple is adorable and their relationship develops slowly. Will there be parties, mini golf, pool trips, plane rides, road trips, and being grounded? Signs point to yes.
I'm completely in love with Sandy Hall and her writing. She has written two fantastic young adult romances and I can not wait to see what else she'll come out with. If you like this book, I highly recommend you also read A Little Something Different. Happy reading!