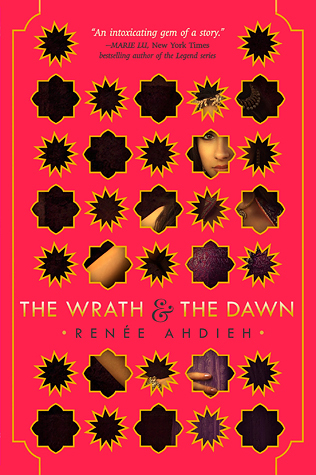 I purchased this book at my local Barnes and Noble. You can purchase this book through multiple websites. If you would like to see more reviews based on this book, please visit Goodreads.com.
Every dawn brings horror to a different family in a land ruled by a killer. Khalid, the eighteen-year-old Caliph of Khorasan, takes a new bride each night only to have her executed at sunrise. So it is a suspicious surprise when sixteen-year-old Shahrzad volunteers to marry Khalid. But she does so with a clever plan to stay alive and exact revenge on the Caliph for the murder of her best friend and countless other girls. Shazi's wit and will, indeed, get her through to the dawn that no others have seen, but with a catch . . . she's falling in love with the very boy who killed her dearest friend.
She discovers that the murderous boy-king is not all that he seems and neither are the deaths of so many girls. Shazi is determined to uncover the reason for the murders and to break the cycle once and for all.
The dusk jacket for this book is very beautiful. The actual book itself is a burgundy shade and it looks very nice. I love it just as much as I loved the book! Ok, so this book was inspired by
A Thousand and One Nights.
I haven't read the book so I feel that I really need to after finishing this one. I absolutely loved the entire story! I found this book to be mindblowing! As a reader, I was engaged through all of it. There was not one moment that I wanted to just stop and take a break what so ever. Where is the next book and can you just send it to me immediately!?
This book was filled with a giant secret and I felt like I was going to implode trying to figure out what it was. So the story starts and thats when it all begins (obviously right?), with a cryptic message:
"One hundred lives for one you took. One life to one dawn.
Should you fail but a single morn, I shall take from you your dreams. I
shall take from you your city.
And I shall take from you these lives, a thousandfold."
Creepy, right? I was like ok, so what exactly does this mean? So anyways, Shahrzad volunteers to marry Khalid even though she knows that every bride has been killed at sunrise. Shazi is a very intelligent and cunning girl. Her reasons behind her choice to volunteer are definitely noble but then her feelings for the boy-king start to change. Khalid killed her best friend and how is it ok for her to start falling in love with this boy when he took someone so important to her? Khalid goes to visit Shazi and she holds his attention by telling him a story. While she was telling the stories, I found myself eager to hear the story also. The way she makes it through the night is by ending the story in a way that there is still more to be told. So night after night passes and Shazi makes it to sunrise. I slowly started to really like Khalid and feel as though there had to be a reason behind these deaths. He was mysterious and as much as he sounds terrible, I didn't think he was. I felt myself swooning for the idea of them being together. She fights with herself because of the feelings she is developing, but she never lets these feelings excuse what he has done. This book is lovely, I definitely recommend it to young adult lovers. It is filled with romance and emotion. Half the time I was like NOOO!!! What just happened, my emotions can't take this. I give this book 5 out of 5 stars but I'm still not completely over the fact that I finished reading and discovered this was not a stand alone book. This is a duology and the next book does not come out until next year. Where is the next one and why has it not been mailed to me already! I hope you all enjoy the book. Happy reading!