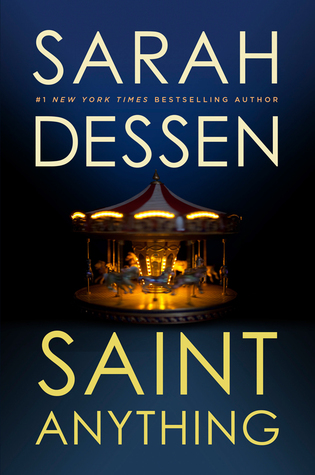 I purchased this book when it first released this month/May. I was very excited because the story sounded great and I've never read a book by Sarah Dessen. Let's just say I'm not disappointed! Even better, I was able to purchase this book and it was signed! Thank you Target! If you'd like to see more reviews on this book, please visit Goodreads.com.
Peyton, Sydney's charismatic older brother, has always been the star of the family, receiving the lion's share of their parents' attention and—lately—concern. When Peyton's increasingly reckless behavior culminates in an accident, a drunk driving conviction, and a jail sentence, Sydney is cast adrift, searching for her place in the family and the world. When everyone else is so worried about Peyton, is she the only one concerned about the victim of the accident?
Enter the Chathams, a warm, chaotic family who run a pizza parlor, play bluegrass on weekends, and pitch in to care for their mother, who has multiple sclerosis. Here Sydney experiences unquestioning acceptance. And here she meets Mac, gentle, watchful, and protective, who makes Sydney feel seen, really seen, for the first time.
The uber-popular Sarah Dessen explores her signature themes of family, self-discovery, and change in her twelfth novel, sure to delight her legions of fans
I've never read a book by Sarah Dessen and I was not disappointed. I was first attracted to this book by its cover. I totally didn't judge it by the cover though, I read the inside of the dusk jacket that I posted above. My boyfriend tried to ask me what this book was about.....where do I start and how do I explain? So I just told him it was way too difficult and I hope you all understand that I'm trying to process my feelings in this review.
The whole book sort of revolves around Peyton and what happened to him but this book is about Sydney. It's about how her life basically revolves around this incident that occurred and how she just needs a change. She meets Layla, the super awesome confident new friend, and it all starts with YumYums. Obviously, all the good flavors are taken but Sydney settles for root beer flavor. This is where I felt that the story was about to get better, I was right. Layla brings her a giant bag of them. That is how their friendship starts, awesome right? Anyways, Layla's family is by far the best thing about this book. I hope you grow to love them! The characters are all around completely adorable. I love them, I loved the way their relationships/friendships grew and I loved that they had to overcome situations that occurred. Romance, drinking, drama, and betrayal. I don't want to give away too much. So, happy reading!!