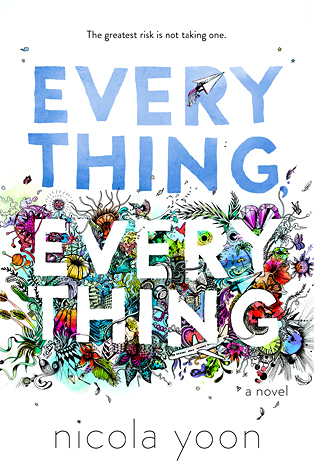 I received this book from Nicola Yoon at Y'all West and from Netgalley in exchange for an honest review. This is by far one of the best Arcs I've received this year and I have tons from the last few book events I've been to this year!
This book is available for Pre-order on
Amazon.com.
If you would like to see more reviews for this book, please go to Goodreads.com. The book will be available in September, but if you can get it prior you should.
The book cover is honestly marvelous. It is so beautiful and the drawings on it make it that much better.
Overall, this book is literally heart clenching and beautiful. So let's just jump in, shall we? Madeline has SCID which is basically a super rare disease and she is allergic to like everything. She lives at home in something that is basically like a giant bubble. Her father and brother passed away when she was very young. Her mother is a doctor and her nurse's name is Carla. A new neighbor moves in next door and of course....there's a boy. His name is Oliver but they call him Olly. He's utterly perfect in the best ways for Madeline. Unfortunately, she can't leave her house and no one except her tutors are allowed to come in to visit. So when Carla lets her have him over for a visit, her world flips upside down. This boy, these hormones, these amazingly interesting conversations, and of course the romance between them is lovely.
I was hooked immediately and I'm so sad the book is over. But, the ending was lovely and it made me love the book that much more! This book was nothing like I thought it would be at all. Every single time I guessed what would happen I was wrong. I absolutely loved the book and if you liked TFiOS I honestly think you'll love this book.