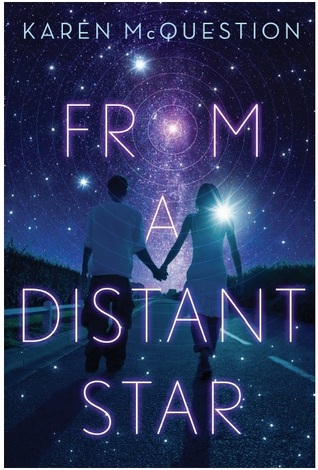 The release date for this book is May 19, 2015. It is currently available for
Pre-order through Amazon.com
. If you'd like to see other reviews based on this book visit
Goodreads.com.
ISBN13:9781477830178
Let me just start off talking about the beautiful cover of this book. Once you read it you will understand why it is utterly perfect and lovely. I found the entire layout of it to be great! I give the book cover a 5 out of 5 stars. The colors are just lovely and perfect. A very unique cover. What are your thoughts about it?
A weird witch lady, an extra terrestrial, a boy with stage 4 cancer on his deathbed, a family who has lost all hope, and a girl who refuses to give up on the boy she loves. This story pulls you in right away. You are constantly trying to figure out what exactly is going on. But, not in a bad type of way! It's more like a mystery you are trying to solve and you're fascinated by it all. This book is mystery, sci-fi, and romance wrapped all into one. I personally would rate this book a 4.5 out of 5 stars. I personally think that this is a book that I'd pick up again in a few years and read it all over again. I constantly NEEDED to know what would happen next! I finished reading this book in 2 days because I thought it was so good. So basically, the boy with the stage 4 cancer's name is Lucas. Lucas is currently in hospice care and is in a coma. Emma, his girlfriend, is the only supporter of Lucas. Lucas' entire family is pretty much waiting for him to die because everyone and all the medical personal say there's no getting better. Emma decides to go see the witch lady of their town and she gives her a potion. However, she mentions to Emma that something feels off. Emma does the little ritual she has to for Lucas and then later on in the night, there is a crash and there is an extra terrestrial that appears. This book isn't like oh my goodness there is an alien walking around!! No, it is more like the essence of the alien. Anyways, the alien, Scout takes over Lucas' body and uses him as a host. Scout knows he could possibly heal Lucas and in return he will use Lucas' body as a host. When Lucas' starts acting weird people start getting a bit suspicious. Lucas' younger brother, Eric, notices this and so has Emma. When Scout confides his secret in them, they would have never guessed that was what was actually going on. Now, Lucas and Emma have to help Scout return to his home in order to get Lucas back. There is a road trip involved and a lot of action! But I won't spoil it for you! Overall, my favorite part has to be the ending of this book because it is just PERFECT! Scout gives Emma and Lucas the best gift of all! Now it is up to you to figure out what that the gift they received. Happy reading!